An undercover journey deep into the world of sex trafficking, following one man determined to rescue his wife -- kidnapped and sold into the global sex trade. How five women from the struggling countries of Eastern Europe were tricked into sexual slavery, beaten by traffickers and pimps, forced to work to turn a profit -- and finally escaped. Plus, a convicted Ukrainian sex trafficker talks about the multibillion dollar sex trade business, and why he sold an acquaintance for $1,000.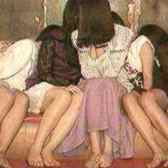 From the villages of Moldova and Ukraine, to underground brothels and discotheques in Turkey where many women are trafficked and forced into prostitution, we witness first-hand the brutal world of white sex slavery.
The Victims:
There are several women who agreed to talk to us for this documentary, and each story is more tragic then the last. I always try to keep an emotional distance from the subjects of my films, but this one was different. These women's stories, the horrors they endured, the hopelessness they feel, and the strength they nonetheless manage to project touched me profoundly. The collapse of the Soviet Union has resulted in a desperation that has forced thousands of young women to do anything to get out and try to earn a living. This is the root cause of the increase in women from these countries into the global sex trade. They're not the first; we've heard stories about Filipino women, Thai women, Indian women, and this new wave is indicative of the same kind of poverty and desperation that plagues other countries that supply women into the insatiable world of sex trafficking.
So far, all of the women I filmed are doing well, but they are hanging on by a thread. It is my hope that the film will inspire people to do something about this. We have also set up a trust fund so that we can direct some money to the victims who shared their stories with us. A little can make a big difference in their lives.
Update, May 2009: FRONTLINE asked producer Ric Esther Bienstock how the characters in this report are doing now, more than 3 years since the original broadcast. She writes:
Tania

is doing extremely well. Every time the documentary has been broadcast, we have received funds from viewers who wish to help her and other characters in the film. These funds have helped Tania pull her life back together. She was able to buy a small house in a village where she could find work. She is the sole breadwinner in her family, so this was crucial for her to be able to earn a living while living with her daughter. She currently works as a sales clerk in a local store. Her daughter is thriving. She no longer has to travel an hour to get to school. Her new school is a mere 10 minute walk from home. Tania is trying to learn English now. She has survived her ordeal and has made a new life for herself.

Katia

moved to Odessa and found a job in a bar. She has not really emotionally recovered from her ordeal. She and her husband Viorel split up not too long ago. She was just recently diagnosed with cervical cancer and is undergoing chemotherapy.

Oksana still lives in Reni, Ukraine. She is engaged to be married. Her sister who, in our film, decided to go to Turkey to work as a domestic despite the risks, is still in Turkey working as a domestic. She did not get trafficked, and she sends money home monthly.

"Olga," the trafficker, was never arrested. She still lives in Moldova.
The Traffickers:
One of the most shocking things about the traffickers and recruiters is just how regular they are. They are mothers, fathers and daughters and blend in seamlessly with the rest of society. I don't know if I expected them to have horns or just appear more evil, but they don't. And many of them are women. The absolute cold-hearted, matter-of-fact way they treat these transactions is staggering. It's just another business transaction. They sound like they're selling widgets, or any kind of merchandise.